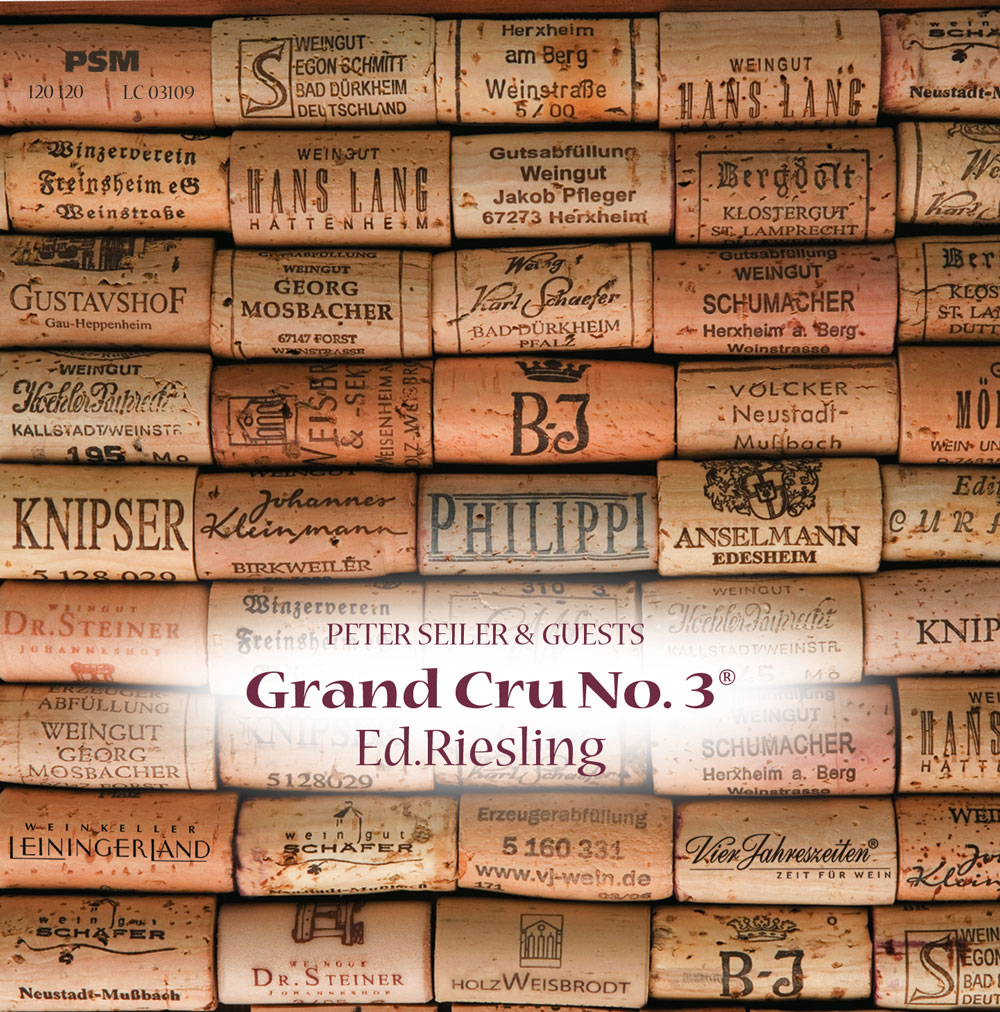 Gäste:
Jochen Brauer, Wesley G., Thomas Siffling, Rolf Dieter Schnapka, Daniel Fleischmann
(also playing: Fritz Neidlinger, Lisa Franco, Merih Gürlek, Steven Seiler)
The much requested series is in its third incarnation! Music, tailor-made and chosen for the enjoyment of fine wine GRAND CRU No. 3® is a compilation of original PETER SEILER compositions and soul classics – ranging from Barry White to Stevie Wonder (and some surprises in between).
Tracklist:
TEST THE GRAND CRU  "Hörspiel"
Music by Peter Seiler  •  Pub. by TRIPLE-MUSIC     1:22
CAN'T GET ENOUGH OF YOUR LOVE, BABE
Music by Barry White  •  Pub. by Intersong Music   3:47
BREEZIN´
Music by Bobby Womack  •  Pub. by Abkco Music Inc    3:59
DANCING SUNRAYS
Music by Peter Seiler  •  Pub. by TRIPLE-MUSIC    2:40
YOU ARE THE SUNSHINE OF MY LIFE
Music by Stevie Wonder  •  Pub. by Black-Bull-Music Inc    3:06
RISE
Music by Armer/Badazz  •  Pub. by Almo Music    5:50
LOVE´S THEME
Music by Barry White  •  Pub. by Sa-Vette Music   4:31
FLASHDANCE (What A Feeling)
Music by Giorgio Moroder  •  Pub. by  Intersong USA Inc    3:39
SUNNYVALE
Music by Peter Seiler  •  Pub. by TRIPLE-MUSIC    3:04
PETER GUNN
Music by Henry Mancini  •  Pub. by Northridge Music Inc    3:16
MEXICAN MOON
Music by Peter Seiler  •  Pub. by TRIPLE-MUSIC/Byte ´n Bit Music    5:36
I GOT RHYTHM
Music by  George & Ira Gershwin  •  Pub. by New World Music    3:26
TIME IS TIGHT
Music by Booker T.  Jones  •  Pub. by Irving Music Inc    3:55
(WHAT A) WONDERFUL WORLD
Music by Weiss/Douglas  •  Pub. by Abilene Music Inc     2:44
PSM 120120 – Running time: 52'24"   Grand Cru No. 3