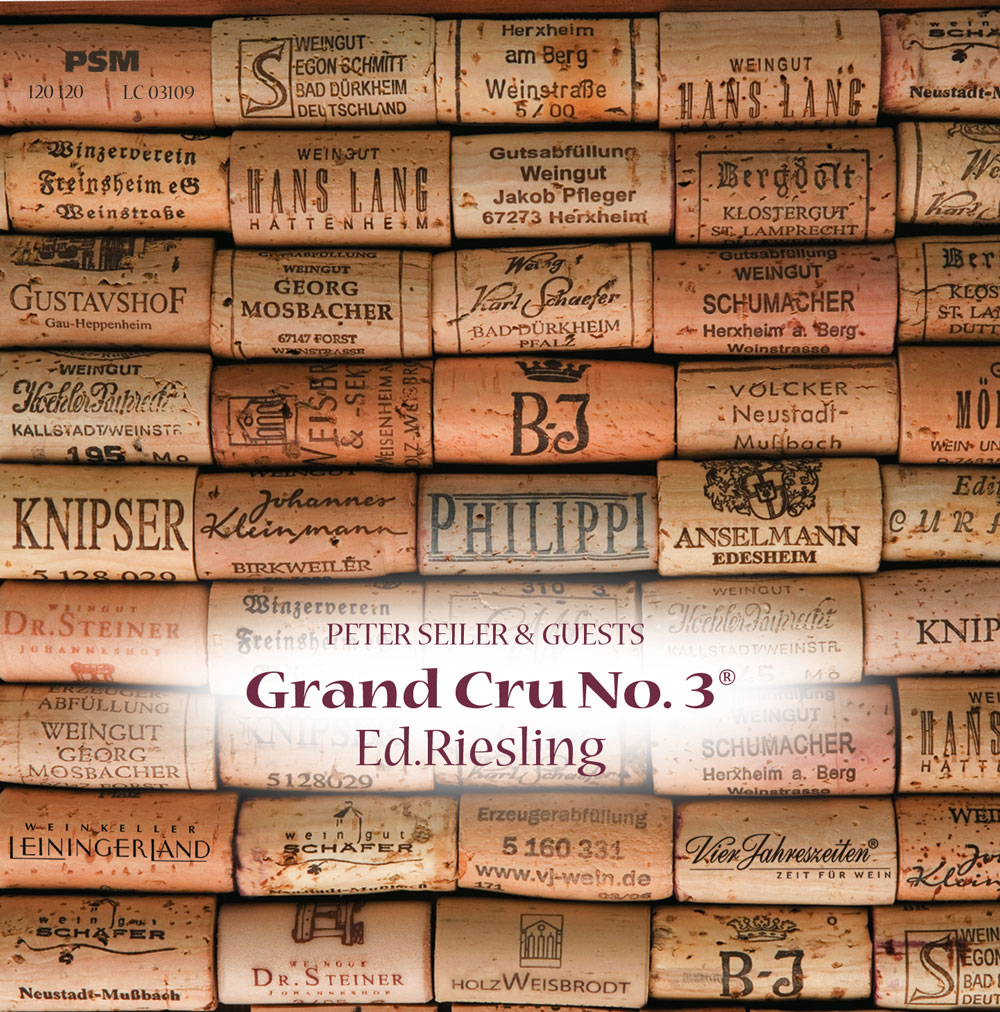 Guests:
Jochen Brauer, Wesley G., Thomas Siffling, Rolf Dieter Schnapka, Daniel Fleischmann
(also Fritz Neidlinger, Lisa Franco, Merih Gürlek, Steven Seiler)
The much requested series is in its third incarnation! Music, tailor-made and chosen for the enjoyment of fine wine GRAND CRU No. 3® is a compilation of original PETER SEILER compositions and soul classics – ranging from Barry White to Stevie Wonder (and some surprises in between).
Tracklist:
TEST THE GRAND CRU  "Hörspiel"
Music by Peter Seiler  •  Pub. by TRIPLE-MUSIC     1:22
CAN'T GET ENOUGH OF YOUR LOVE, BABE
Music by Barry White  •  Pub. by Intersong Music   3:47
BREEZIN´
Music by Bobby Womack  •  Pub. by Abkco Music Inc    3:59
DANCING SUNRAYS
Music by Peter Seiler  •  Pub. by TRIPLE-MUSIC    2:40
YOU ARE THE SUNSHINE OF MY LIFE
Music by Stevie Wonder  •  Pub. by Black-Bull-Music Inc    3:06
RISE
Music by Armer/Badazz  •  Pub. by Almo Music    5:50
LOVE´S THEME
Music by Barry White  •  Pub. by Sa-Vette Music   4:31
FLASHDANCE (What A Feeling)
Music by Giorgio Moroder  •  Pub. by  Intersong USA Inc    3:39
SUNNYVALE
Music by Peter Seiler  •  Pub. by TRIPLE-MUSIC    3:04
PETER GUNN
Music by Henry Mancini  •  Pub. by Northridge Music Inc    3:16
MEXICAN MOON
Music by Peter Seiler  •  Pub. by TRIPLE-MUSIC/Byte ´n Bit Music    5:36
I GOT RHYTHM
Music by  George & Ira Gershwin  •  Pub. by New World Music    3:26
TIME IS TIGHT
Music by Booker T.  Jones  •  Pub. by Irving Music Inc    3:55
(WHAT A) WONDERFUL WORLD
Music by Weiss/Douglas  •  Pub. by Abilene Music Inc     2:44
PSM 120120 – Running time: 63'10"   Grand Cru No. 3