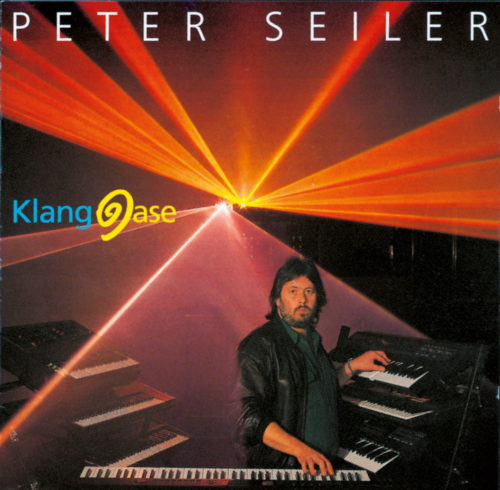 PETER SEILER
keyboards
Guests:
Jochen Brauer (saxophone), Benjamin Wittiber (vibraphone »Nice To Have Met You«), Chris Orzechowski (guitars »Fly Me Home«, »Gute Laune«), Al Obo (ac. guitar »Serenade For You«), Martin Buntrock (drums, sequencers »Fly Me Home«), Hanno Haag (violin »Jenny's Tune«), Christian Eitner (drum programming »Frieden«), Steven Seiler (drum programming, sequencers »Gute Laune«), Lisa Franco (Harp »Nice To Have Met You«)
A designated area of Mannheim Luisenpark has been redesigned as a relaxation zone. Every day between May and October this oasis is being visited by businesspeople looking for a quiet hour away from the noise of the working day. Well concealed in trees and bushes this music, soothing and revitalizing, seeps through the leaves, mingling with the sounds of trees, birds and water, giving the SoundOasis its name.
Of all PETER SEILER releases, KlangOase is probably the richest in style variation so far. Ambient pieces follow salon music, Irish folk segues into power pop and waltzes. This mix has fascinated listeners at the Luisenpark sound installation and Seiler fans alike, making this album the most successful domestic release.
Find out why! SoundOasis is the right record for you play coming home after a busy day or as a soundtrack to a good book you read in the evening.
Tracklist:
Frieden

Park Louise
Nice To Have Met You

Jenny's Tune
A Wee Bit Of Skye

Fly Me Home*
Serenade For You

Irish Air
Close Your Eyes
When Stars Dream
Natural Touches

Gute Laune
PSM 120101-2 – Running time: 52'11"
All tracks composed, recorded and produced by PETER SEILER, except * Peter Seiler / Martin Buntrock
Mark Sakautsky, Co-founder and former director of the IC label was one of the first to listen to the completed album. Here are his liner notes:
Peter, a true-blue musician, came to me in 1986, with a lot of studio and live-music experience under his belt. I heard his demos and offered him a deal on my IC label. In the eight years to come we released six of his solo-recordings on IC, which became very successful for both artist and label. In 1994 I relinquished my shareholding and parted. So did he.
Not everything ended in 1994, our friendship survived. Peter is someone who artistically travels his very own road, even though that is not always easy, but the Seiler-style is always recognizable and there is honour alongside love and deeply felt emotion in his music.
When Peter asked me to write the liner notes for his new record I was delighted and what you're about to read are my very personal impressions of his music. The titles I decided to highlight are the ones that are so typical Seiler – I had to "address" them and they showcase in 1996 what has been Peter's musical identity ever since he started writing and playing music.
"Park Louise" carries his very own melancholy, so often present in his compositions. Music like the golden leaves of an Indian Summer which fall gently to mother earth, they sing not only the song of a dying year, but in their rich colours pointing towards new life in spring …
His love for smooth jazz shows in the third tune and so the champagne sparkles in that intimate, stylish jazz club, for that very first rendezvous and the music fills the late summer-night and you never know whether it ends with a " Nice to have met you" or whether there is a hot, erotic encounter still in the making …
"Jenny's Tune" is dedicated to his daughter – and here it shows that Peter not only loves his daughter, but also classical Russian composers. The result is a tender, romantic, soulful child's tune, with light touches of Vienna cafe-house music. Since Peter is a frequent flyer with his international travels, a song like "Fly Me Home" is a natural. Listen, and look out of your window: you see the glittering lakes, the snow-capped mountains, the cities of light and the layers of cloud. There is a hidden sadness in this music – maybe because one has left a beautiful, exotic beach – but still the music swings and there is happiness in the air, though despite all the lures of traveling to far away places, home is the place where the heart is and that is this flight's destination: home…
"Irish Air" – this is were Peter really shines, glorious music with all the power of emotion. When his music becomes the paint brush for multidimensional landscapes – as in the case Ireland – he is truly at his very best. If your are a romantic at heart and you can still stand awed and child-like at the beauty of nature; you will simply FEEL his music, see the blazing greens of Irish landscape, smell the mist and peaty air and not only "hear" music … The majestic homage to Scotland "A wee bit of Skye" is a fine example how Peter composes effortlessly and conveys his so personal feeling to the listener … Let the child dream, let the music fly and your heart will follow …