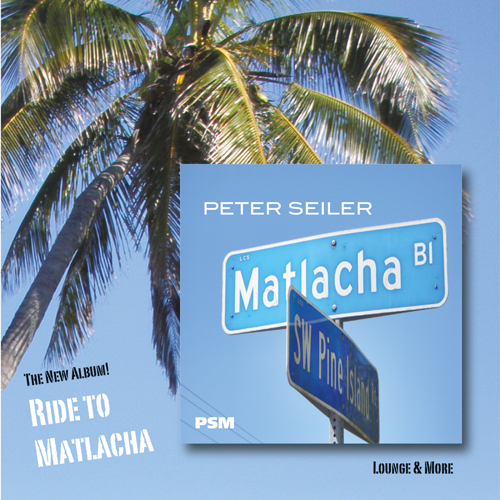 Peter Seiler [Keyboards | Piano & Arrangements] Guests:
Jochen "Awesome" Brauer [Sax]; Rolf Dieter Schnapka [Bass]; Luis Cardoso, Ricardo Bettiol; Felix Schueler [Guitars]; Steven Seiler [Keys & Programming]; Roddie Dang à Mira [Beat | Voice]; Rolf "Didge" Hofmann [Didgeridoo]; Daniel Fleischmann [Drums]; Lisa (Lynn) Franco [Harp]; Lale Diler [Voice]; Ali Ungan [Saz]; Erik Fodi [SoundDesign & Mix]; Irene Claussen-Gomez & Sheryl Hackett [Vocals]
Tracklist:
Bokeelia Sunset 

Sunday@Shimmys 

Ocean Blvd. 

Campo Brasil 

Timebend 

Ride Thru FNQ 

Certain Moments 

Punta Cana Breeze 

Mavi Blue Bosporus 

Follow Magellan 

Ride to Matlacha 

Another Gloomy Day 
Recorded@TRIPLE MUSIC Recording Studio
Mannheim | Jungbusch • Germany
Engineered & mixed by
Merih Guerlek | Steven Seiler
Ricardo Bettiol & P. Seiler
© + (P) 2015, PSM | TRIPLE MUSIC  LC 03109
ISRC:  DEH611512801-12
The album describes numerous impressions from trips to, and countries on, our Planet Earth. Reflections on places, on people, moods, situations, cities, bike rides, cruises and  glorious sunsets.
Let´s keep it beautiful and natural. [PS]
Ride to Matlacha and Bokeelia Sunset, Pine Island Southwest Florida – sunsets, fun, headwind & snowbirds.
Sunday@Shimmy's, Walker Bay South Africa – Yes, It´s me..
Ride thru FNQ, on the way to Cape York – rain forest, thunder, tropical rain, Cape Tribulation, destination Port Douglas –
salties, roadtrains, roos, and billabongs.
Follow Magellan, South America, Magellan Strait –
waves and storm, Drake Passage on the way to Antartica.
Mavi Blue Bosporus – two worlds. Orient meets Occident.
Campo Brasil and Punta Cana Breeze
an easy Latin American and Caribbean feel.
Timebend – lost time at airports, Sheryl´s voice from heaven,
precious time slipping away forever …
Certain Moments – memories of journeys, miles,
and experiences, that begin to fade at the River Rhine on
Another Gloomy Day.